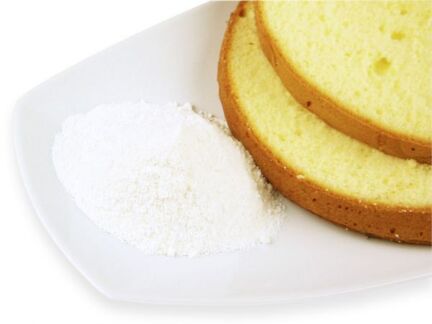 Biscuit Mix Supreme 5kg
Item number: MK11196
Weight: 5,1 kg.
Preparation: Biscuit Mix Supreme

Biscuit mix, suitable for making sponge cake bases and biscuit roulades fast and safe.

Whip all ingredients for 10 minutes with a fine whisk. While making Vienna mass fold the liquid fat at the end. Bake Biscuit and Vienna cake for 30 minutes by 200°C. Roulades need approx. 7 minutes by 240°C.
Ingredients:Sugar, WHEAT FLOUR, WHEAT STARCH, emulsifiers: E 471, E 472a, E 472b, E 475 (CONTAINS MILK and SOYA); Starch, acidulant: diphosphates; Raising agent: sodium carbonate; Glucose syrup, SKIMMED MILK POWDER, table salt.
Nutritional information:
100g contain an average value of:
caloric value 1594 KJ
381 kcal
Fat 2.9 g
Saturated fat 2.5 g
Total carbohydrates 83.2 g
Sugar 42.5 g
Protein 3.7 g
Sodium 1.6 g